Another Bikram morning. This means, of course, an insatiable appetite all afternoon, so there will be a lot of food porn.
Some recent meals...
A feast of delicious beige! Leftover chickpea cutlet my new favorite sustitute for mashed potatoes - caulifower, steamed then pureed with a little soymilk and nooch, natch.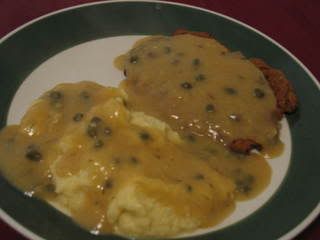 This was my dinner on Monday, another Bikram day, which meant I was stuffing my face constantly, and was still starving for dinner by 4:30, when I wolfed this down.
Followed by this...
This is from the frozen remains of my delicious birthday cheesecake. My mom veganized my grandma's amazing recipe for me - best birthday cake ever. Originally it was served with homemade raspberry sauce, but I just topped it with organic chocolate sauce. Mmmmm. I'm hoping to have the recipe up on the next blog.
And just for shits and giggles, yesterday's breakfast: a berry/spinach smoothie with flax.
Usually these turn out grey and swampy, but I thought this was actually quite pretty next to the flowers, served in J's beer glass for your viewing pleasure.
And finally, my lunch today, consumed about an hour ago.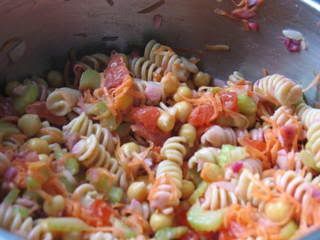 This salad is sort of a long story. So, on Monday evening I was planning on making the lentil salad from Vcon, to keep in the fridge for lunches this week. However, I only had red lentils, but presumptuously assumed that these would be fine in the recipe. So, as they're simmering away in the homemade veggie broth that had taken almost two hours to make, I'm mincing up onions, radish, celery and carrots in preparation for the lentils. I pour the finished lentils into a sieve and tap-tap-tap, they turn to yellow mush. I just stared at them, aghast for a minute, then my food failure adrenaline kicked in. I dumped in some bread crumbs and flaxmeal, made two big patties, and tossed them in a skillet to brown. Voila! Two beautiful lentil patties that can still be lunch next week. Then I look at the bowl of veggies on the counter, still awaiting their legumes. Not one to waste food, I dash over to Albertsons (not my usual store, but it's a block away and I didn't want to drive to the health food store) to pick up some chickpeas. Another bad call. A can of regular, non-organic, chemically-infused chickpeas are $1.30. $1.30, people! I usually by organic for MAYBE .90. In my supermarket rage, I refuse to give them the extra forty cents for inferior beans, and instead go straight back home to just put pasta in the salad. And when I walk in the door, the lentil patties are gone. J is on the couch, eating the last one (after he had already eaten the baked tofu dinner I made him). So now, it's just me and the salad. Grumpy, I make some whole wheat rotelle, whisk up some vinagrette, dump them in a bowl, then console myself with the aforementioned cheesecake and season 1 of Sex & the City. Long story short, this is that salad (with the addition of .90 ORGANIC chickpeas that I picked up after bikram). It was good, but in my usual fashion, I sort of picked out the pasta and veggies and ignored the chickpeas. Yes, after all that trouble. But the truth is...I don't really like chickpeas. Don't get me wrong! I love them in cutlet and hummus form, but by themselves, I think they taste kind of like farts.
That said, I then dug into this, after perusing way-too-appetizing vegblogs.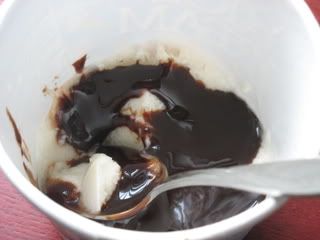 That would be the last third of a pint of Vanilla Rice Dream, with chocolate sauce poured in and eaten directly out of the carton. I'm sorry, did you mistake me for someone with class?
Tonight, since J and I actually get an hour to eat together, I'm thinking about making fatfreevegan's sweet & sour baked seitan, but with frozen tofu. Looking forward to it.